2022 Nevada Rifle Elk Hunt – 6 Elk in 5 Days! Part 1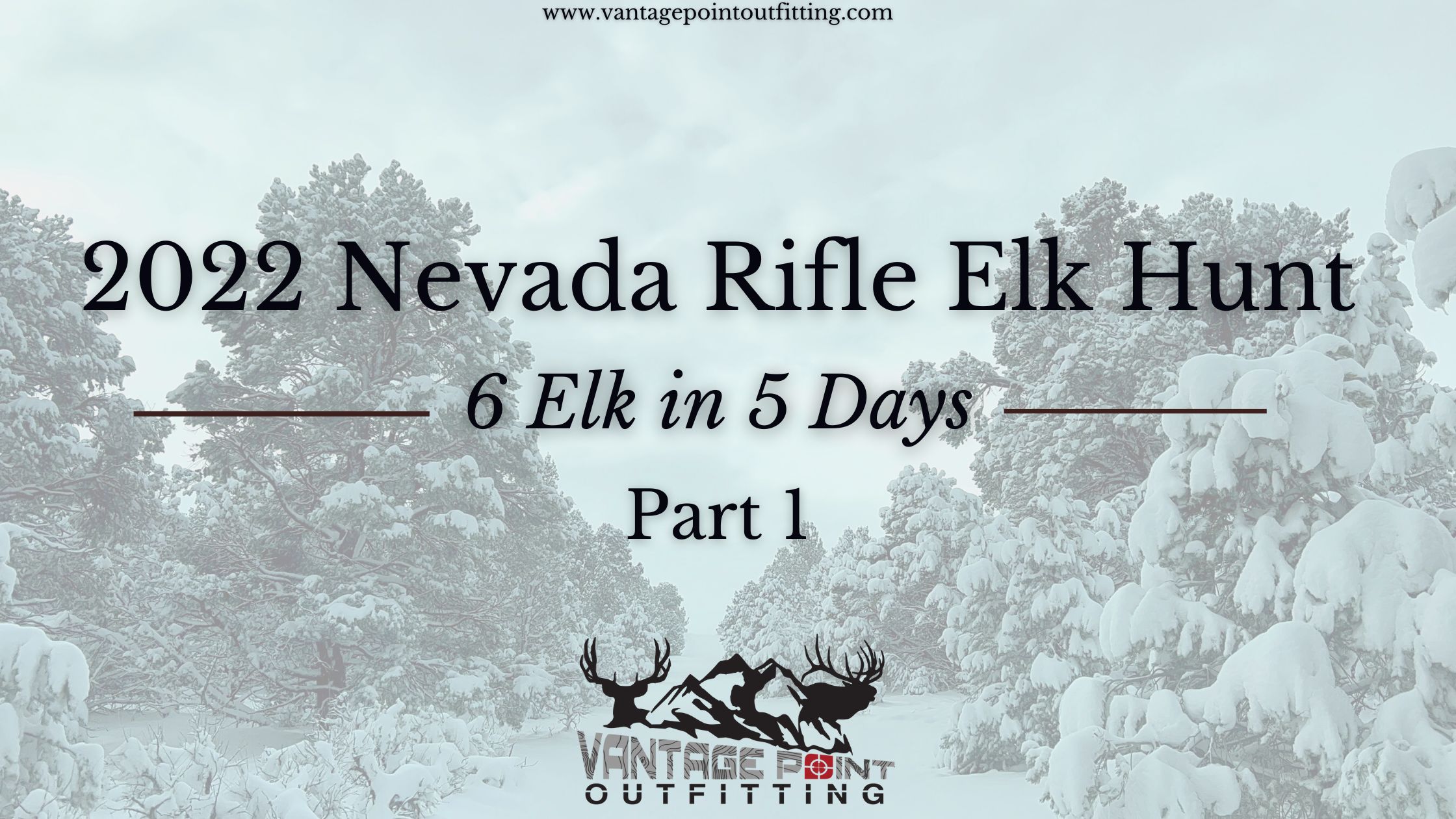 Vantage Point Outfitting is two weeks into the 2022 Nevada Rifle Elk Hunt and we've been off to an awesome start!
Our first two hunters were David from Reno, Nevada and Bryan from Steamboat Springs, Colorado. David and Bryan stayed at the Hunting Lodge, a Pioche Airbnb John and Sarah help manage, getting in to town the day the hunt started. The cabin worked out great for these two guys who were complete strangers…David took the downstairs and Bryan got the whole upstairs to himself. Sarah cooked all their meals for them in the kitchen and kept their bellies full.
Nevada Rifle Elk Hunts Recap
Our guide Austin, took Bryan out on the first day of the hunt and although they saw a lot of elk, nothing was hitting the sweet spot for Bryan's likings. However, David and our guide Daryl came back on day 1 with a filled tag! This was David's first elk hunt and it was so awesome seeing his excitement! In fact, he wrote a first hand description of it and we thought you'd enjoy reading the hunt from his perspective…
From Our Hunter David About His Bull Elk Hunt
"Finally, after 16 points later, I got a Bull Elk tag, area 231, now what? As I am 68 years old, I knew I would not be hunting or packing out any elk by myself. I read about Vantage Point Outfitting on their website and decided to reach out to them.
I made contact with Master Guide, John Stever, about my tag. John answered all my questions regarding their service and accommodations and a date was set. Upon arrival, John made sure I knew the location an awesome two-story log home and took me to the nearest shooting range to make sure my rifle was ready to go.
The next day at 4:00am, we (one guide-one hunter) were heading to Area 231 for the hunt of a lifetime! Soon, with their Assistant Guide, Daryl, he spotted a herd of one big bull and 19 cows on a ridge-line. Daryl, knowing the area, took me to a lookout spot, to the moving herd. About thirty mines later, Daryl spotted the herd 1800 yards across on a hillside.
The "spot and stock" was now on! The plan, drive to the bottom of the canyon/hillside and walk up the dry-stream bed. Daryl was always asking "How you doing David?" I said tired but ok.
Soon Daryl spotted another herd, about 800 yards in-front of us. We closed to 300 yards on a 5 x 7 bull sleeping with his body completely covered by sagebrush. After an hour, we started to get into a better shooting position when a cow busted us. Daryl whispers, the cows are up and the bull will be rising. I sat down on my rear and shot at 400 yards hitting the bull, (three times in the ribs) and dropping it. Daryl was on the spotting scope, confirming my hits. Soon we were headed up the mountain to my downed 5×7 bull.
On the way up, Daryl was always making sure I was "OK", as the mountain was pretty steep. OMG, what a bull!! A lifetime of memories created by Vantage Point Outfitting. John, Daryl and their team of incredible people, cleaned/quartered my bull, got the ivory teeth and packed it over a mile, back to the trucks.
That evening, an awesome meal at the cabin with great new friends forever!
I would 100% recommend Vantage Point Outfitting!! I can't wait to hunt with John and his team in the near future!!"
The Story of a Lifetime in Pictures
We got some great photos of David and Daryl with his Nevada Bull Elk…love seeing so much excitement from our hunters!
Vantage Point Outfitters Aims to Please
Thank you so much David for choosing Vantage Point to help you with this incredible hunt! We seriously couldn't have had a better time hunting if we tried! We love what we do and are so honored our clients choose us for their Nevada rifle elk hunts! Check back soon for part 2 of our 2022 Nevada Rifle Elk Hunt Series. Also…if you took the time to make it this far…we'd be stoked if you'd share this article around to all your friends in the hunting community!
Until next time,
John, Duaine, Daryl, Lonny, Austin, Landon, Justin, & Mark